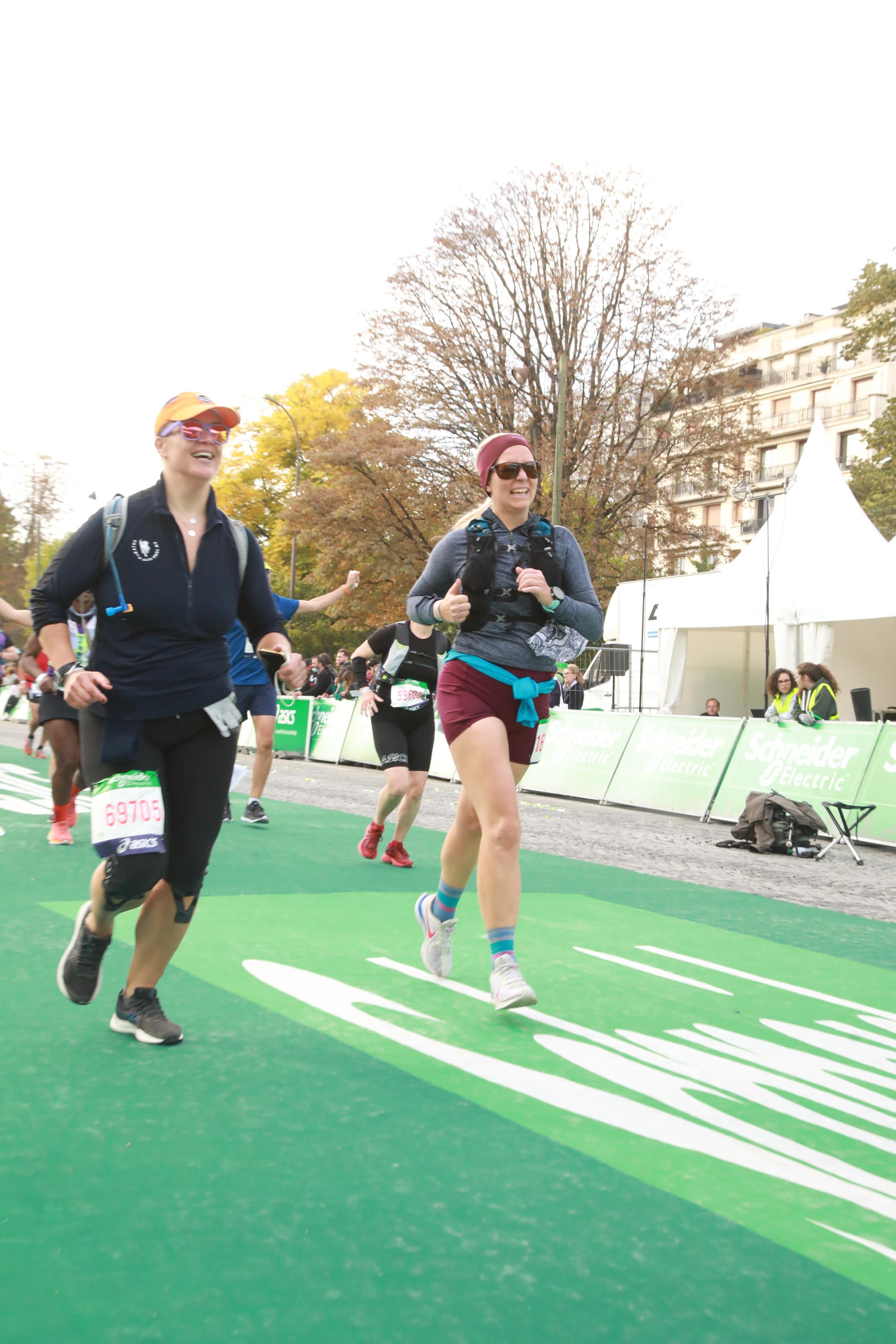 Coach Kristin & Coach StephB
Bringing a combined 3000 miles of pure marathon distance experience together we will share with you:
the dos & dont's of marathon training,
the tricks we learned over the years
the miles & smiles
and of course all the dirty little secrets no one tells you about marathon running!
Our philosophy is based on the principle that no runner should ever be left behind.
We will take all the stress & the thinking of planning your weekly long run so you can focus on what you do best: have fun while you run!

Program Overview:
Coach StephB & Coach Kristin join forces to coach runners for NYC Marathon & other fall marathons.
This is 4 month program starting July 2nd through to November 5th (detailed dates below)
Each month includes:
- 3x in person long runs (long run by distance, long run by time on feet, extended tempo long runs)
- 1x prescribed run to do solo (with suggested route & recommendation)
- 1x recorded strength for runners video workout
- 1x recorded session mobility and recovery for runners
- 1x expert lead sponsored & specialty session (each month a professional from a particular field will come meet the runners at the end of the extended tempo workout to cover topics such as injury prevention, athletic training, nutrition & fueling, sports psychology & mental game)
In addition on marathon week:
- 1x marathon eve virtual session "Fresh legs, strong mind" covering course strategy, mobility, relaxation
In total the program would include:
- 12 in person runs
- 6 prescribed run with maps for inspiration
- 4 recorded strength videos
- 4 recorded mobility and recovery videos
- 4 expert lead sponsored sessions
- 1 virtual marathon eve session
- 100% support you need to start strong and finish strong YOUR marathon this fall!
Here are the dates & times
Long runs will take place on Saturday mornings in NYC
Start times: 6.30am during the months of July + August; 7am in September; 7.30am in October - - this is designed so as to avoid the hotter hours of the days during the Summer months.
July
in person runs 2nd, 9th, 23rd
prescribed runs 16th, 30th
August
in person runs 6th, 13th, 20th
prescribed run 27th
September
in person runs 3rd, 10th, 24th
prescribed run 17th
October
in person runs 1st, 15th, 29th
prescribed runs: 8th, 22nd
November
virtual marathon eve session Saturday Nov 5th 12pm
Location will vary depending on whether we do park, riverside, or NYC course, details will be sent out each Wednesday preceding the long run so that as a runner you can plan your nutrition accordingly.
Suggested distances are approximate, some runners may be recommended a specific duration rather than a distance, others might be prescribed specific pace blocks to follow.
Workouts are rain or shine - if the weather prohibits an outdoor workout a live virtual workout class will take place in lieu at the same time the run workout would have taken place and a treadmill equivalent workout will be provided
Bag check will be possible for some runs but not all runs.
This program will run from July 2022 through to November 2022
Program includes mobility, strength, access to on demand workout videos, bonus nutrition guides, coach support and course strategy.
Check your inbox to confirm your subscription